Across from the Capitol - April 1, 1949

Florida Capitol - April 1, 1949

Northeast Corner of Monroe and Pensacola Looking North, 1954

Northwest Corner of Monroe and Pensacola, 1959

Capitol Bridge over Pensacola Street - 1966 - New 2013

Jefferson Street and Leon County Court House

Leon County Court House 1976 - New 2013

Looking at the South Side of Jefferson Street - New 2013

Northeast Corner of Adams and Pensacola 195? - New 2013

Capitol from Apalachee Parkway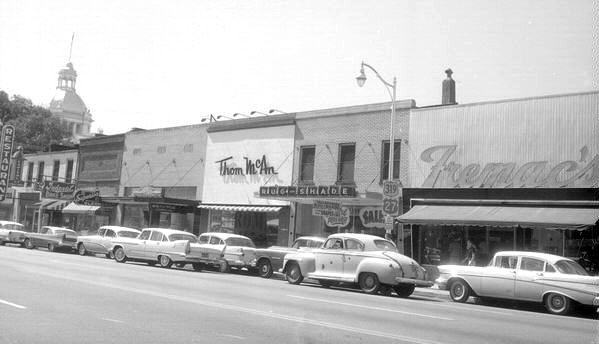 Monroe Street at the Capitol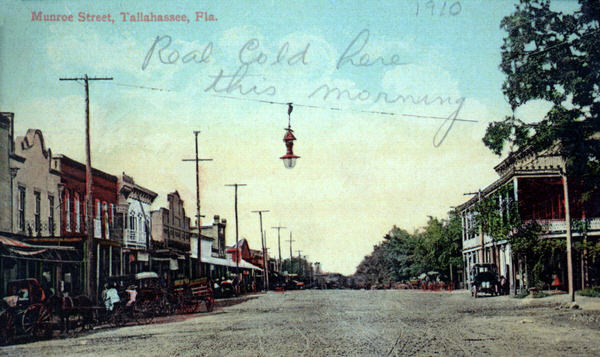 Monroe Street at Jefferson Looking North

Looking North on Calhoun from South Jefferson Street, 1948

College Avenue Looking West Towards FSU

Intersection of College Avenue and Duval Street, 1949

Looking South on Adams Street from College Avenue

Southwest Corner of Adams Street and Park Avenue, 1971 - New 2015

Northeast Corner of Adams and College, 1952

College Avenue between Adams and Monroe, 1937

Northeast Corner of Monroe and College, 1950 - Updated 2013

Monroe at College Avenue Looking Southwest - Updated 2013

Monroe Street at Park Avenue Looking Southwest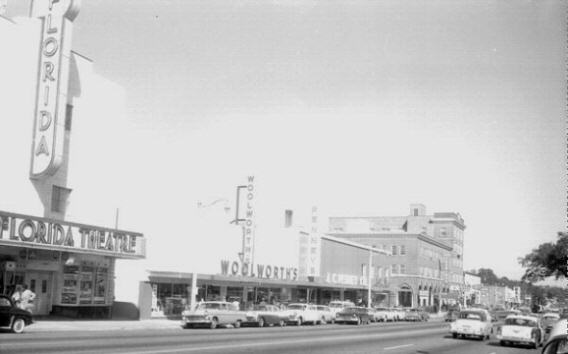 Florida Theatre on Monroe Street Looking North - Updated 2013

Floridan Hotel and St. John's Episcopal Church - Updated 2013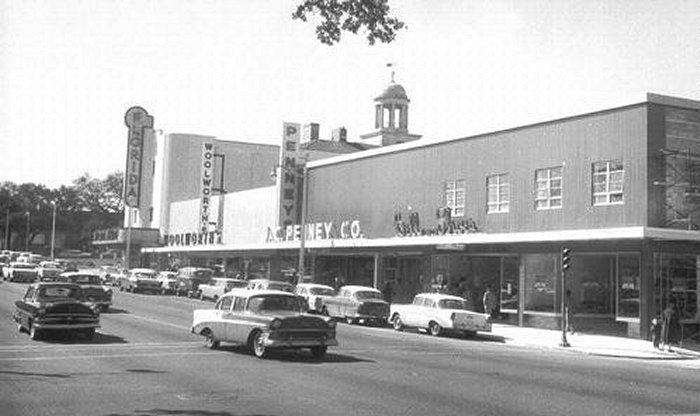 Florida Theatre on Monroe Street Looking South - Updated 2013

East side of Monroe Street between Call Street and Park Avenue - New 2015

Old Governor's Mansion

Duval Hotel on Monroe - Updated 2013

McCord Point - Monroe and Thomasville Split - Updated 2013

Sealey Memorial School on East Seventh Avenue 193?

South Monroe Looking North Towards the Capitol 1946 - Updated 2013

Shell Oyster Bar, South Monroe Street - New 2013

Lee's Grocery on the corner of Tennessee and Macomb Streets, 19?
---

Map with Camera Locations

Old Aerial Photographs of Tallahassee - Updated 2016

Calvin C. Phillips Mausoleum in Oakland Cemetery

Roy Strickland's Boyhood Memories

Pope Hamrick's Memoirs

David Brand's Stories

Old Time Tallahassee by J. Kent Thompson - New 2021

Memory Map Tallahassee - by Stephen Shrewsbury - New 2019
---
The drawing in the title is a reconstruction of the west side of Monroe Street between Jefferson
Street and College Avenue as it looked in 1890 by Bill Thompson, Tallahassee Florida. 19__?
Most of the old pictures used on this site where taken by Forrest (Fred) Granger in the 1940s
and 50s. Read more about Fred Granger and search for other pictures in his Collection.
1998 Tallahassee Democrat article written by Gerald Ensley about this web site when it was new.
Read selected visitor e-mail containing stories and recollections about Tallahassee including facts
and comments about some of the pictures and suggestions for future development of this web site.